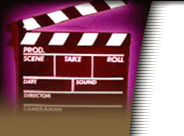 ---
Copyright 2001-2005, Viodi, LLC
About Viodi
Viodi (pronounced V-O-D) aims to be the premier provider of information, marketing materials and content acquisition services for the iTV and VOD efforts of independent telcos. With roots in the Heartland, Silicon Valley and Hollywood, Viodi and its associates bring a unique perspective to help the independent telco learn about, acquire and promote VOD and iTV content.
Viodi has:
Publishes the Viodi View - an online and occasional print newsletter that is sent to over 2,800 people associated with independent telcos and/or video.
Produced the Independent Telco Video Content Conference and co-produced, with USTA, IP Video @ Telecom 03, IP Video @ Telecom 04 and IP Video @ Supercomm 2004 & IP Video @ Supercomm 2005 that brought together content licensors and independent telcos.
Is producing, creating and distributing product CDs for various telecommunications' suppliers. Click here for an example.
Acquired content, created on-air and print media for Broadband Service Provider clients serving both residential and commercial deployments.
Supplied clients with content for product demonstration and testing purposes.
Assisted clients with studies and system modeling in both the technical and operational aspects of on-demand networks.
Served as a liaison for suppliers wishing to address the BSP marketplace.
Viodi's team has been involved in numerous cutting-edge residential and hospitality deployments, worldwide. For additional information on Viodi and its team, please contact us at [email protected]